---
---
DDS Tune is a MFC C++ program to tune the DDS chip (AD9835) in the Elektuur DRM Receiver.
There is also some other DDS module from AK MODUL-BUS that uses the same IO as the Elektuur DRM receiver and can be controlled by this software (Thanks, PA0EZ)
Functionality
The functionality is self explaining (I hope ;-).
The frequence can be changed with the mouse (rotate the mouse round the knob or use the mouse wheel) or with the arrow keys and page Up/Down (Home/End). It can also be typed in the field "Fix kHz" or recalled from one of the 100 memory places. There are four VFO's that can be used and every VFO remember the actual frequence, it band and 25 memory's.
The flag "MF" tell the program to use the MF frequence (in the Options dialog). The MF frequence may be a positive number for above mixing or a negative number for low mixing. If low mixing is used and the frequence is lower then two times the MF frequence, upper mixing is automatic selected!

The program is in development on the moment, please check for new releases.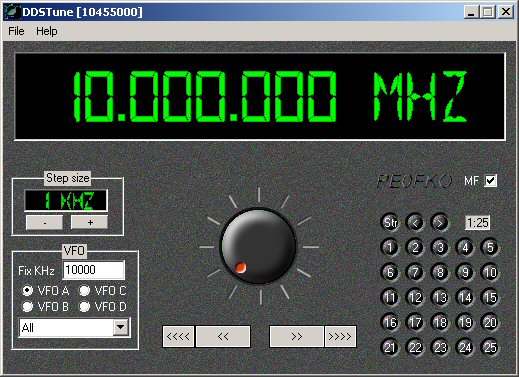 Options
The following options can be changed in the program, for some options it will be necessary to close the program and start it again.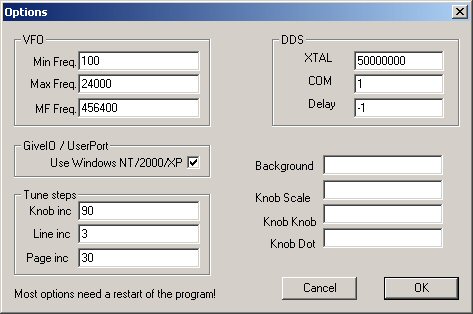 ---
V2.4 at 07/02/2007: Some minor change.
V2.3 at 19/05/2006: +MF freq is upper mixing, -MF is down mixing, display DDS freq in header.
Download DDSTune.exe V2.4

If you are running Windows 2000 or XP you will need to install the GIVEIO or the UserPort device driver (to access the COM port pins direct by the software).

---
File last modified on Thursday, 25-Oct-2012 09:27:39 CEST
My BitCoin address: 1MqQWXdaBAmYFNqXnQLd5cxG6KkvLj9LPK