---
---
AMSR is a Ham radio receiver program to receive some (AM,FM,SSB,CW) radio signals from the Elektuur DRM Receiver. It is a test program to see if I can build a receiver in software with minimal hardware and some DSP technique. There is a mutch nice software radio on the web at SDRadio from Alberto I2PHD.

The program fuctionality is described in the next steps:
Read the I & Q signals from the input soundcard L & R.
Mixture the samples with a VCO frequence that the user can set from 0 to 24KHz
Change to the frequnce domain by a FFT (size at About)

The program is in development on the moment, please check for new releases.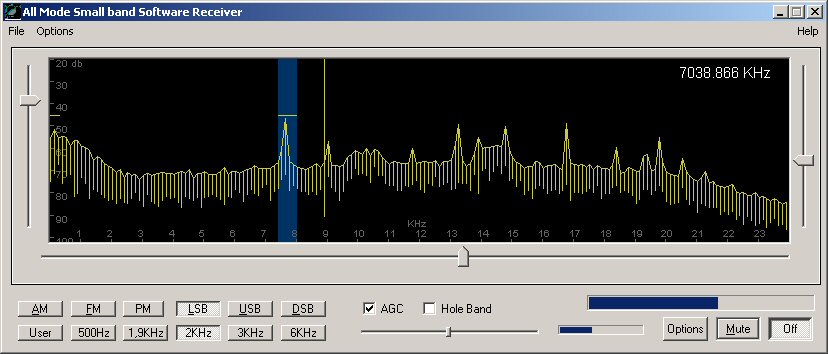 ---
Download AMSR.exe you also need some FFT functions in this DLL, put it on the same directory as AMSR.exe.
Example wav file (zip, 48000 samp/sec, stereo with same data). I need a example file with Q&I samples!

---
Version history.
| | |
| --- | --- |
| V0.1 | Initial version released, very basic |
| V0.2 | Never released, testing only |
| V0.3 | Changed the output (reverse) FFT to a lower size (1/4 or 1/8) so less filtering and cpu power is needed |
| V0.4 | Remove the seperated FFT for the display and use the FFT from the filter to display, still expirimental |
| V0.5 | Mouse drag for the center frequence end low and high filter bandwidth. Selection of the sound device. |
| V0.6 | The size of the FFT and FFT reverse can be changed bij de Options dialog. The input and output sound device can be selected. |
| V0.8 | Reading of .wav files is possible via the options/file menu, I only test it with my own build wav file. (?? will it work ??) |
| V0.9 | Sound out downsample by 2 with using the stereo output of the mono signal |
---
File last modified on Wednesday, 16-Mar-2016 12:43:53 CET
My BitCoin address: 1MqQWXdaBAmYFNqXnQLd5cxG6KkvLj9LPK